Meeting the Baha'i

At the turn of 2014, one of our campaigns led us to the Baha'i. Thanks to Supreme Master Ching Hai et al, we were already aware of some Baha'i texts containing guidance on diet and abstinence from animal flesh. Therefore, was very keen to meet people from the Baha'i community and learn more. Not long after, we were invited to a attend a local Baha'i meeting on the 8th of January 2015 at Leeds Quaker house.
The Baha'i were very welcoming, interested and open to critical discussion. Views about equality between women and men were discussed. We learned that while there are no gender restrictions on regional and national Baha'i assemblies, it appears that only men are permitted to form the universal house of justice (the international assembly). Each assembly, regional, national and international consists of nine representatives that are elected through a secret vote-balloting process whereby fellow Baha'i nominate their preferred candidate to represent on the assembly. Hence, any combination of male or female can form regional and national assemblies but when it comes to the World Assembly, no women are allowed, although they can still elect their preferred Man.

One of the attendees who was looking for a faith group for him and his family to join found this aspect of Baha'i difficult to swallow and some interesting debate followed. It was there suggested by one prominent bahai that this rule could never change, or at least not within a 1,000 years. Nevertheless, it was presented as a consolation that the Universal House dealt mainly with finance and boring administrative affairs, and it was argued that women are prioritised over men in education.

Following on from this questions were asked as whether the Baha'i would for example support a women's rights events, campaigns, protests etc. Similarly it was suggested that the Baha'i would not be willing to join or support other groups in social justice struggles etc as the Baha'i themselves are already reconciled, and it is not the Baha'i that needs to change as they are not in any competition or struggle. It was however accepted that there are no constraints on individual Baha'is' to be part of something outside of the faith, be it justice for women or animal liberation et cetera.
However, the topic of the day was 'The Family' and questions about 'Love' & 'Marriage' were considered. While people in the group were relatively open minded, maybe there was a little over emphasis on the traditional heterosexual family ideal which in this day and age probably need not be overstated, particularly if a faith is to nurture unity and appeal to the diversity. Having said that, it was respectfully observed that the Baha'i seemed to have no issue with interracial courtships in the with the influential work of Abdu'l Baha.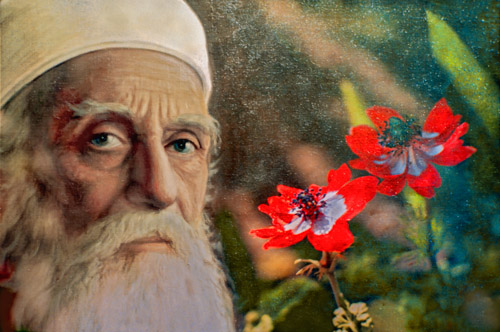 On the subject of 'love' the group shared some of their thoughts in seeking to define the term. Various terms and expressions where considered, including 'compassion'. Hence, a quote from the Master ('Abdu'l-Bahá) was read out which referred to compassion and pity. This in turn seemed to stimulate some interest and recognition of how the food choices we make may also concern love. However, Abdul's plea for a vegetarian (non-violent & compassionate) future were played down as precisely that, as one elder stressed this was merely a utopian dream of a million year from now. This seemed to echo the viewpoint of a Jehovah's Witness we had previously encountered and had stressed that such things were promised in the future (but not now), a return to those basic principles where mankind harmed no creature.
Nevertheless, one of the ladies explained that they had previously held a discussion about nutrition and she seemed pretty positive about the prospect of focusing more on this. Why not since Abdu'l's revelation seems to becoming true about humans being  herbivorous by design (more facts here). Moreover, the science is pretty clear if we obtain the facts for those expert nutritionists who themselves have give up animal products and seem massive improvements in those who they have treated accordingly. The evidence shows us that the prolonged consumption of animal based proteins such a meat, eggs and dairy are detrimental to our physiology. Also note that when humans feed herbivorous creatures with animal protein, a diet that is unnatural to them, and hence an abomination, we have observed diseases such as Mad Cow Disease develop in bovines also having a knock on effect on the humans that eat them, hence affecting both cows and humans in the cruelest of ways .
Therefore, even if not owing to compassion for non-human animals in the way they are treated, as inanimate objects incapable of loving and caring for their young without any emotional capacity or feeling, it is nevertheless worth learning what impacts our self-serving relationship with them is having on our health and on the rest of the world. This is one revelation of Abdu'l's that  has more significance NOW than every more and the Bahai can help enlighten the pathway to peace and prosperity for all living, thinking, feeling sentient beings on this amazing planet.

It is now down to the the universal house of justice to take affirmative action, to ensure that the growth of Bahai principles increases it must pay special tribute to Abdul's prophecy, about the 'pity' and 'compassion' that he observes in his verses animals/vegetarianism. It must address the complacency in human culture, our reluctance to change, even if it is for the better. It must ensure that a minimum of four women and four men are elected into the Universal House of Justice, if Bahai is to help enlighten the road for humanity. There are very very few nations, religions, political groups, or corporations that practice what they preach with regard to gender equality, and there should be no doubt that any right action furthering this would be welcomed by the eternal spirits of Bahaullah and Abdu'l even if it meant compromising tradition. Indeed, the first female body builder or Persia is a Bahaí who despite coming from a male dominant pro-meat eating culture, nevertheless, rejects the habit.
Nasime Sabz is a Bahai activist who has written extensively about her findings, her experience, veganism and human-animal liberation. Nasime is mainly active on youtube but has previously had her own TV Show on Persian Satellite (the first of its kind in Persia). However due to financial constraints Nasime in no longest on mainstream TV, but no doubt, she'll be back. Nasime's approach is aimed at 'inciting' kindness to all living beings. Check out some of her mouth watering recipes here. Nasime has a resourceful website and also a 'new' facebook page as well 100's of video on youtube and google+. Another Bahai leading the way.

…
Did you know that Bahai's are frequently persecuted in Iran because of their religious beliefs? There are presently 11 university lecturers imprisoned in Iran, click here to learn more & sign petition.