"FROM

DUSK

'TIL

DAWN

"

SIGNED

BY

KEITH MANN
In 1996 Quentin Tarantino co-produced an award winning film called 'From Dusk Till Dawn'. A fictional comedy containing pure violence and blood spillage – a critical film in Tarantino's claim to fame. Yet around the same time on the other side of the world

UK activist

Keith Mann lie on his jail cell bed convicted for intent to reduce needless animals suffering. This resulted in the young liberator writing a book of his own, one that provides all the action and entertainment found in Tarantino's films and more, the only difference being that Keith's version is not fiction, but is 100% true. Anyone who enjoyed Tarantino's Pulp Fiction (featuring Samuel L Jackson) and/or Kill Bill (featuring Daryl Hannah) is going to love this classic book by true believer, covering the nimble movements of UK activists born to be free and to free they were born, from dusk until dawn, this book covers plenty of detail to keep you entertained and alert.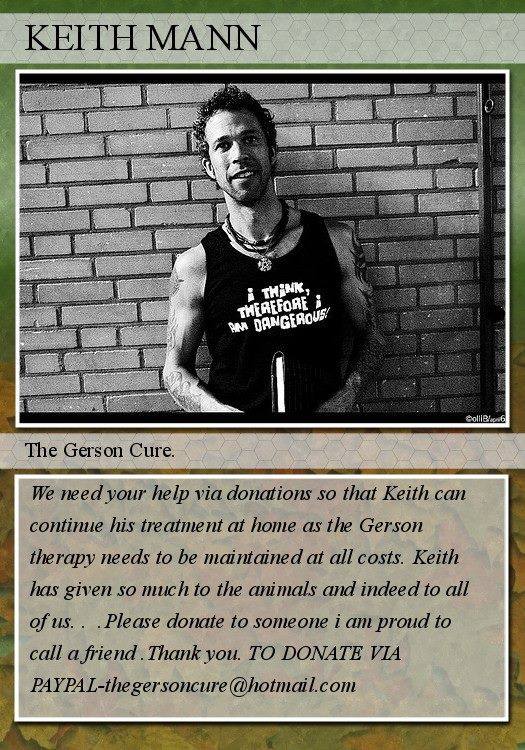 NOT ONLY WILL THIS INVIGORATING BOOK MAKE A GREAT GIFT FOR THAT SPECIAL PERSON BUT MORE IMPORTANTLY YOUR PURCHASE WILL HELP FUND GERSON'S THERAPY FOR THIS SHINING STAR AS HE SEEKS TO RECOVER FROM 'FOLLICULAR LYMPHOMA' (A RARE FORM OF CANCER THAT PRESENTLY AFFECTS HIM).

"I'M NOT INTO BOOKS BUT I CAN'T WAIT TO READ THIS ONE AND ABSORB SOME OF KEITH'S INSPIRATION – I WANTED A TRUE STORY, SOMETHING THAT IS RELEVANT TO TODAY'S REALITY, THAT LINKS TODAY'S STRUGGLES WITH THOSE OF THE PAST, SOMETHING THAT SEEKS TO DISCLOSE & STRIKE CORRUPTION AT THE ROOTS"
FOR YOUR EXCLUSIVE SIGNED COPY OF THIS GROUND BREAKING BOOK PLEASE SUBMIT THE FOLLOWING FORM PROVIDING YOUR NAME, EMAIL AND DELIVERY ADDRESS'S. ONCE YOUR DONATION IS AGREED PLEASE RETURN HERE AND USE THE DONATION TAB BELOW TO COMPLETE YOUR PAYMENT – REMEMBER 100% OF YOUR DONATION WILL BE AIDING KEITH'S RECOVERY.  EXCLUSIVE OFFER – ONLY WHILE STOCKS LAST.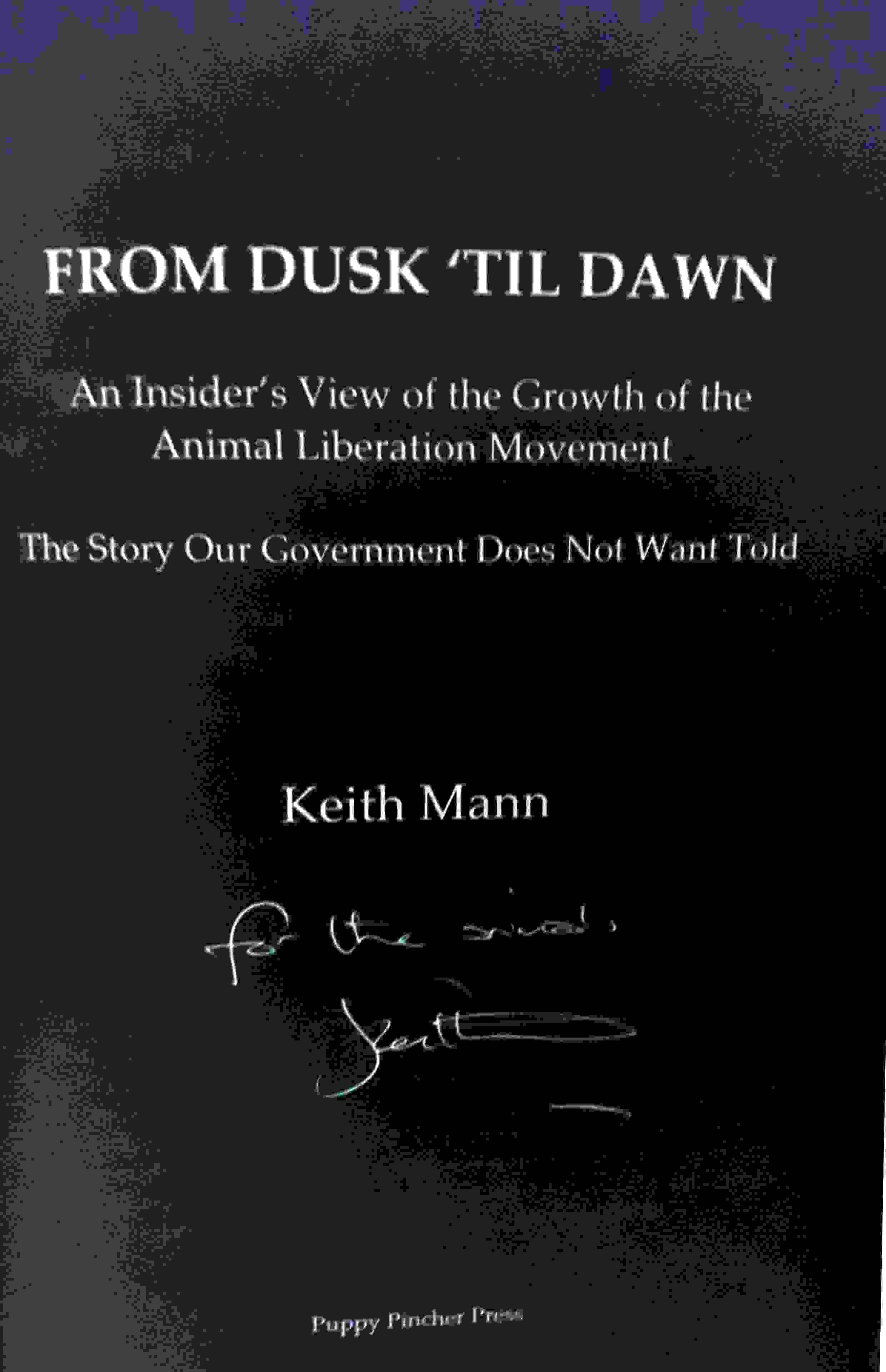 Fifteen years in the making, From Dusk 'til Dawn was born during Keith Mann's lengthy prison sentence for Animal Liberation Front actions. His escape from custody in 1994 nearly scuppered the project but his determination to document the growth of the animal liberation movement ensured its completion. From Dusk 'til Dawn is a must-read for anyone wishing to understand why people break the law and give their lives to rescue animals from exploitation.
Payment Details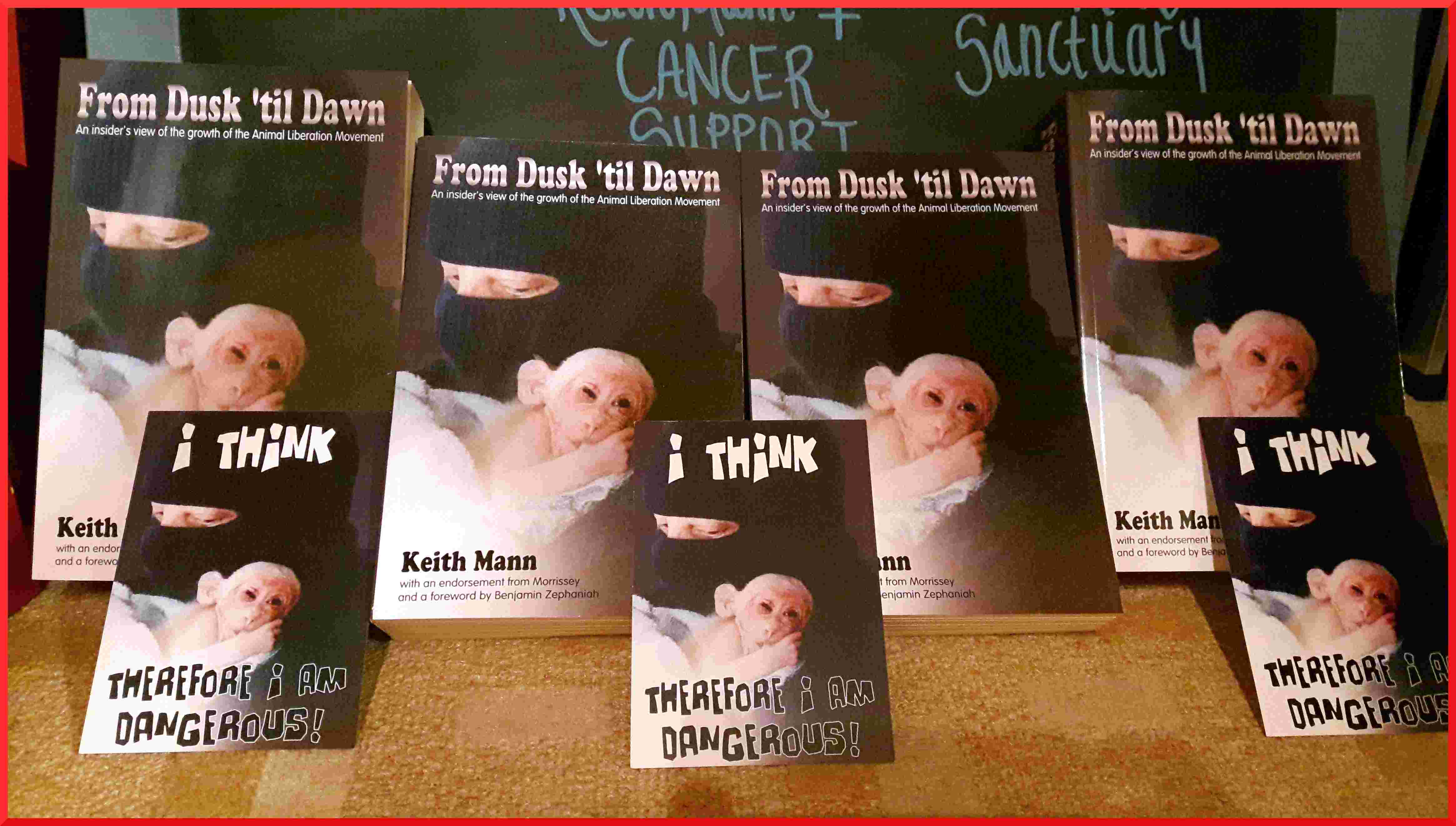 £20 (or more) will guarantee 1st class recorded delivery (1-2 working days) (Recommended). £18.00 – £19.99 will guarantee you recorded delivery 2nd class (3-4 working days). £16.00 – £17.99 – Standard Royal Mail (First Class) £15.00 (minimum) – Standard Royal Mail (Second Class). Orders will be dispatched within 24 hours of receiving payment. Please use the contact form above to supply your contact details and payment option.
In the meantime people can support Keith by donating via go fund me which provides a run down of what he needs and how much it costs.