'Incurable My Arse' Says Keith Mann
The Great Keith Mann Come Back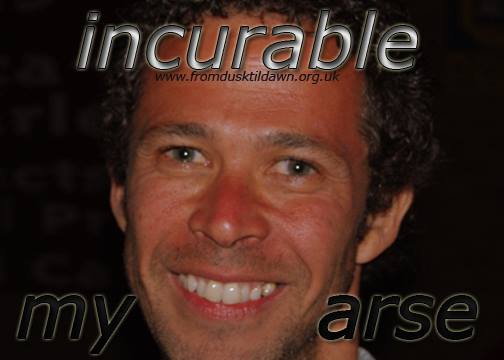 Mann who from day one has set out to protect those unable to protect themselves – Like many others, was written off by our wonderful NHS cancer specialists who unfortunately are untrained in 'critical' areas of (commonsense) nutrition and naturopathy. They told Keith it was 'incurable' and offered him pain killers and prescription drugs. Keith is probably still despised by nazi vivisectionists who bring unthinkable
harm to non-human animals

in UK laboratories (EVERY DAY by the 100's) under FALSE PRETENSES in the name of medical research. Indeed, this gives rise to FLAWED SCIENCE wittingly used to justify the administration of prescription drugs whose side effects in turn contribute to the manslaughter of 100's of human animals ('patients') everyday (although we consent in ignorance).
Abhorred by the UK Police State  who envied Keith's spark but could never extinguish it so bright it brought their own actions & behaviour into dispute (and still does), 
judges, juries, 

barristers, lawyers, so called civilsed people sadly driven by ego, self interest, vanity, dollar & blood lust (and consequently remain entangled in such).
RECLAIMING THE WORD "CURE/CURED"
Exciting Times, Keith Mann discuses some of the supplements that are helping restore his health following cancer diagnosis in 2013
VITAMIN C 13 grams Down to 5 grams ALTRIENT C LivOn
BARLEY POWER – GREENER SUPREME 18 Tablets a day (comes from the AMISH) what the FDA don't want people to know! £43 per month (http://www.deprogramyourself.org/…/why-amish-rarely-get-sic…)
BETA GLUCAN 1,3D £50 pm – Vitamin D3 Liquid £25 per month
Bio-Kult Probiotics £25 per month – Gerson Coffee Enemas – 8 Juices a day
'Incurable my arse' says Keith, this is only the beginning – From Dusk 'til Dawn (still in stock). Also keep an eye out for Keith's free ebook which promises to have tones of invaluble info/resources. Links to Keith's support group are cited on this page.
 

More to come, check back soon – Peace & Love