Celebrating LGBT History Month at Inkwell Arts
Inkwell Arts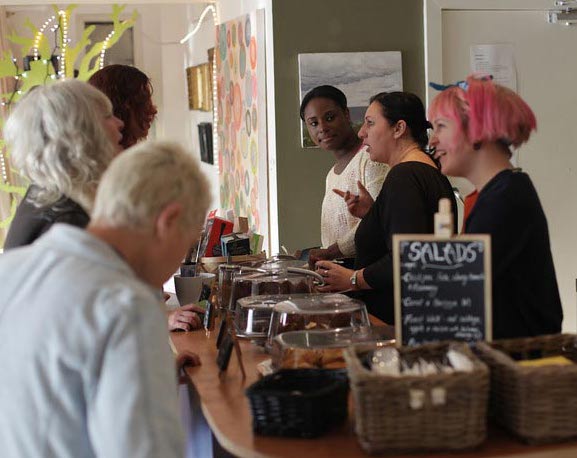 On Friday the 13th 2015 Inkwell Arts opened an art exhibition at their wonderful place in Leeds 7, once known as the 'Shoulder of Mutton' (and still bares the sign), is now known for its wonderful vegetarian café and creative arts initiatives. The theme of the art exhibition was entitled 'Transition' and the opening marked the first day of a celebration for LGBT History Month. This exhibition remains open until the 17th of March 2015, so get yourselves down there if local.
The premises seemed very versatile, and on the night delivered a very classy top draw presentation of various art works ranging from some seriously psychedelic images to some vintage photos depicting various stages of transition and/or 'coming out'. The lighting was perfect and pleasant ambivalence filled the room. The hosts we're on form, the bar staff very courteous, and the stewards assisting our vegan requirements throughout the night. The bar serves vegan friendly beverages only, which was reassuring for us.
Liv Gibson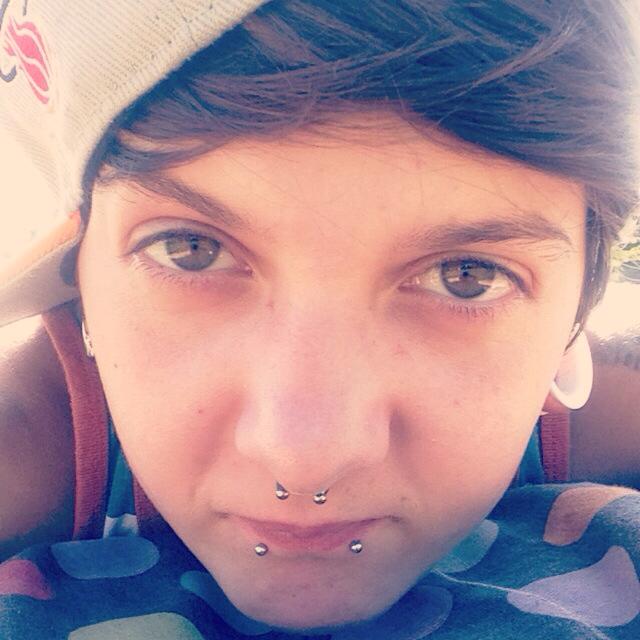 As the evening progressed someone took to the stage, took a seat, took out their guitar and began 'warming up'. Hence we knew that we were in for a sing song or two. And what a fine young musician she was (is), Liv Gibson originally from Hull gave us some wonderful cover songs ending with some indie rock 'call it off'. Some of Liv's covers we better than the originals, and her distinctive voice chimed bells of energy through the audience who received her well.
In the audience was another young lady who sat quietly and seemed to enjoy the evening. Maybe 20 minuets after Liv had finished her solid performance, the other lady took to the stage and appeared to be tuning up a Fender or some kind of classy guitar. After hearing a few warm up notes and vocals the audience knew they were in for another bout of good music.
Malaika Shaw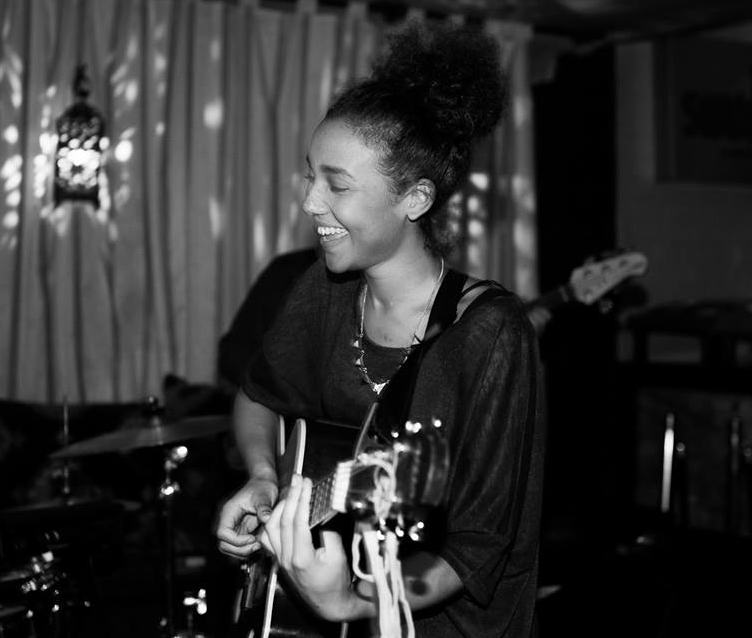 Well… if we were in the business we'd have signed her up there and then. Malaika Shaw 23 from Belfast soon settled in and captured the audience with her quite unique jazzy adaptions of songs from artists such as Daft Punk and Snow Patrol, and included a some of her own, 'dance with me' and 'just want somebody'. Malaika almost brought the lights down half way through her third song 'free your dreams' when she scaled all manner of notes with her elaborate range of vocals.
We caught up Malaika later on in the evening, and learned a little bit more about this Irish Charm, who from around the age of 13 took up the guitar and loved it. Malaika's love for music eventually brought her to the city of Leeds, as they provided a course in line with her interests. It appears that Malaika successfully completed her studies, and has resided in Leeds ever since. During the course of our conversation Malaika explained that she had been vegetarian and vegan for a while, which was encouraging for us to hear. She went on to explain further that she'd experienced various psychological imperatives not to consume her conscience knew was more than simply food. Malaika also had a clear insight into the constraining power structures which serve to control how we think about food, for example, Mc Donnald's buying from companies with names such as 100% beef, but yet producing their burgers from patés like substances which may indeed contain '100% beef' in addition to 90% of substances coming from other animal or chemical concoctions. Furthermore, the only reason McDonnald's include a little drained out piece of pickle in their burgers so they can classify them as 'savoury', another marketing scam to deceive consumers into feeling they're eating something healthy and getting their bogus 'five a day' from vegetable sources. Again even though their maxed out salty French fries are fried in vegetable oil, they are soaked in all manner of animal substances to produce a particular flavour.
We had to leave it there as the night drew in. But anyone liking the sounds of either of these two amazing talents may wish to hire their services for whatever may be the occasion, weddings, parties etc. We would certainly recommend them absolutely 1st class.
Two-Spirit People
Traditional American Indian Perspective about LGBTQ
Click here for more info
Will leave you with a few videos starting with Pattrice Jones veteran LGBT Activist, Long standing educator and supporter and of Civil Rights, Animal Rights, Earth Liberation.